73MW IPP

Hydroelectric
plant

Located on the river Komo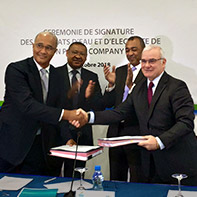 Concession agreement signed
October 2016

Ngoulmendjim
Site



October 2018
Electricity purchase contract signed
The Eranove group has partnered with Gabon's Strategic Investment Find (FGIS) in order to work towards the national aim of meeting all the country's water and electricity needs, devising a competitive, sustainable plan that would create jobs. To this end, they signed two concession agreements with the government in Gabon: one on 21st October 2016 for design, financing, construction and operation, and one on 26th October 2018 that included the electrical energy sales contracts for the two hydroelectric developments:
Asokh Energy (Ngoulmendjim site – 73 MW), a hydroelectric plant on the river Komo, to provide power for Libreville;
Louetsi Energy (15 MW), a waterside hydroelectric plant, 450km from the river-side capital of Louetsi, to provide power for the south-west of the country, on the Dibwangui site.
The Gabonese Strategic Investment Fund (FGIS) and the Pan-African industrial Group Eranove have signed, with the Government of the Gabonese Republic, a concession agreement for the production of drinking water and two power purchase contracts.
read more
Libreville, le 21 octobre 2016 Le Fonds gabonais d'investissements stratégiques (FGIS), vecteur de mobilisation de ressources et acteur majeur de la stratégie de diversification de l'économie gabonaise, et le Groupe industriel Eranove, acteur de premier plan en...
read more