The Eranove group chose an integrated Quality, Safety, Environment management system, first used in 2008 by the Ngnith drinking water production factory in Senegal. It was, therefore, one of the first groups to roll out triple certification in Africa.
Each of the Group's operational companies implements ISO 9001, a Quality standard, and ISO 14001, an Environmental standard, as well as OHSAS 18001, a Safety standard from the British Standard Occupational Health and Safety Assessment Series. Regular audits are carried out by AFNOR, the French certification organisation, allowing the certificates to be renewed.
Certification procedures are built into the Eranove group's management system and are an integral part of their pursuit of their economic, societal, social and environmental goals. Compliance with QHSE action plans is integrated within the goals of operational companies' leaders.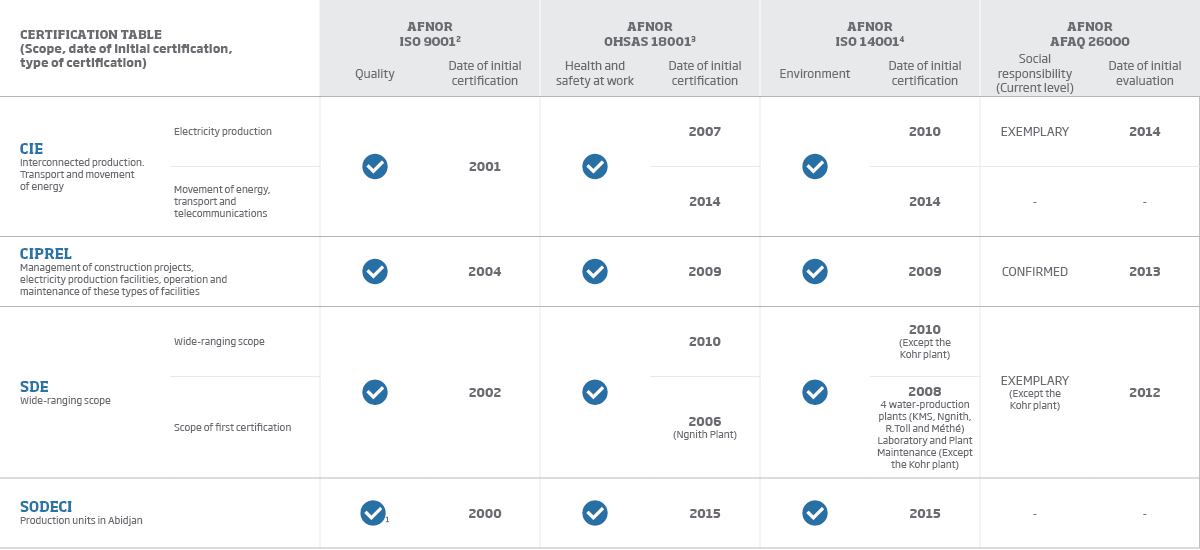 1 This table highlights triple certification. Note that the scope of the SODECI Quality certification is broader (all the areas are covered, except operation and sanitation)
2 Most recent certificates are based on the 2015 version
3 Most recent certificates are based on the 2007 version
4 Most recent certificates are based on the 2015 version